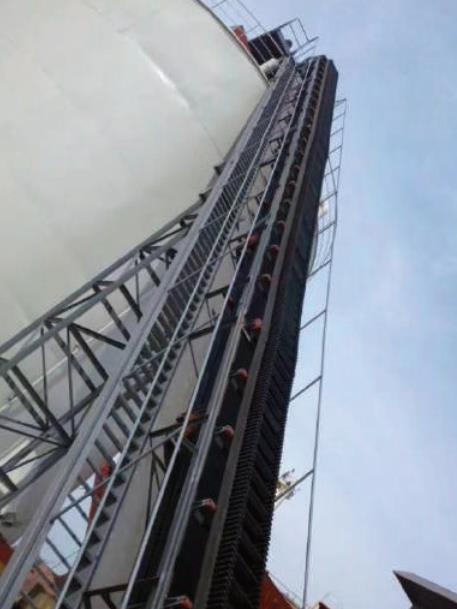 Product introduction:
The Dip-angle conveyor can be transported at a large angle or even vertically. It is widely used because it has the characteristics of large transport capacity, small footprint, and simple maintenance.
Application:
Can be widely used in industries such as coal, grain, building materials, construction, metallurgy, electric power, chemical industry and light industry.
Design features:
This machine is a general-purpose continuous conveying equipment for bulk materials, but it uses a Conveyor Belt with corrugated ribs and transverse partitions. Therefore, it is especially suitable for large inclination angle transportation.
1. Bulk materials can be conveyed at a large inclination angle, which can save a lot of equipment floor space, and completely solve the conveying angle that cannot be achieved by ordinary and patterned belt conveyors.
2. Mechanized belt conveyor transports materials, and the overall investment cost is low, saving about 20% to 30% of the investment cost, and the effect is better in the coal industry.
3. Compared with ordinary belt conveyors, bucket elevators and scraper conveyors, this model has superior comprehensive technical performance.
4. The conveying capacity is large, up to 2500m3/h, and the vertical lifting height can reach 20m.
5. When conveying materials vertically, the particle size of the materials can reach up to 400mm.
6. Smooth transition from horizontal to inclined (or vertical).
7. Low energy consumption, simple structure and convenient maintenance.
8. The tape has high strength and long service life.