Compact, economical and versatile, stacker cranes are designed for the stacking, retrieval and horizontal transport of pallet loads in warehouses and racking systems. Importantly, they can perform these tasks in narrower aisles and in less space than counterbalanced forklifts or trucks.
However, it is worth keeping an open mind when replacing a mobile stacker and considering whether a different solution could improve your operation. A good salesperson should ask you all the right questions before recommending a product to find out what you really need from your warehouse equipment.
How to choose the right mobile stacker?
The basic function of a mobile stacker crane is to stack materials into the yard. With stacking and moving functions, it meets the user's requirements for material transport. In the actual selection, it is suitable for situations where the number of material stacking yards is small and the number of stacker-take-off equipment is small, such as small bulk ports, power plants, cement plants, chemical plants, etc. 1 or 2 yards, etc. The mobile stacker crane can stack materials to two yards separately.
One or two mobile stacker cranes can stack all adjacent yards. However, at this point the equipment runs at a higher rate. Mobile stacker cranes can also be used when the number of yards is high, e.g. three or more yards, and each piece of equipment is required to be equipped with a stacker crane, and are suitable for large bulk port terminal projects.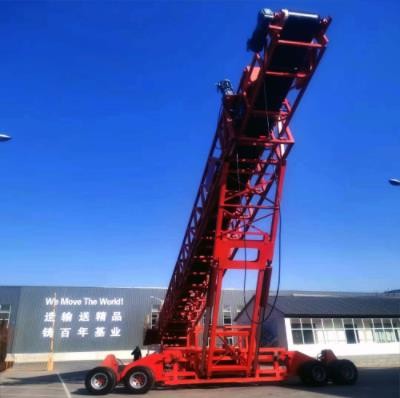 Mobile Stacker
When selecting equipment, the choice is based on the required start or end conveying capacity. If a single car tipper is used to unload coal, the corresponding stacking capacity should be 1000-1250t/h. If a double car tipper is used to unload coal, the corresponding stacking capacity should be 2000t/h. If two ship unloaders are used to unload coal, each with a capacity of 850t/h, the stacking capacity of the mobile stacker should be chosen as 2000, to determine the stacking capacity from the starting point.
In general, it is best that each mobile stacker does not work more than 16 hours per day, around 10 hours, so that there is some time for equipment maintenance and servicing. For other types of material, such as iron ore, this can also be determined according to the above principles.
Nowadays, mobile stackers are often used in ports, yards, power yards, etc. When using different quality levels of palletizing equipment, the number of unexpected problems that may be faced, in addition to the process of palletizing, may also vary, in addition to the difference in the amount of single palletizing, and the use of quality palletizing equipment equipment allows for faster and better palletizing.
The performance of the equipment will be judged by its energy consumption level, as well as the brand and cost effectiveness of the mobile stacker. It will check whether there is a positive correlation between the market price of the stacking equipment and its performance. Whatever type of stacking equipment the customer chooses, they need to ensure that the stacking equipment is qualified in terms of value for money.
For more information and consultation, contact us here!