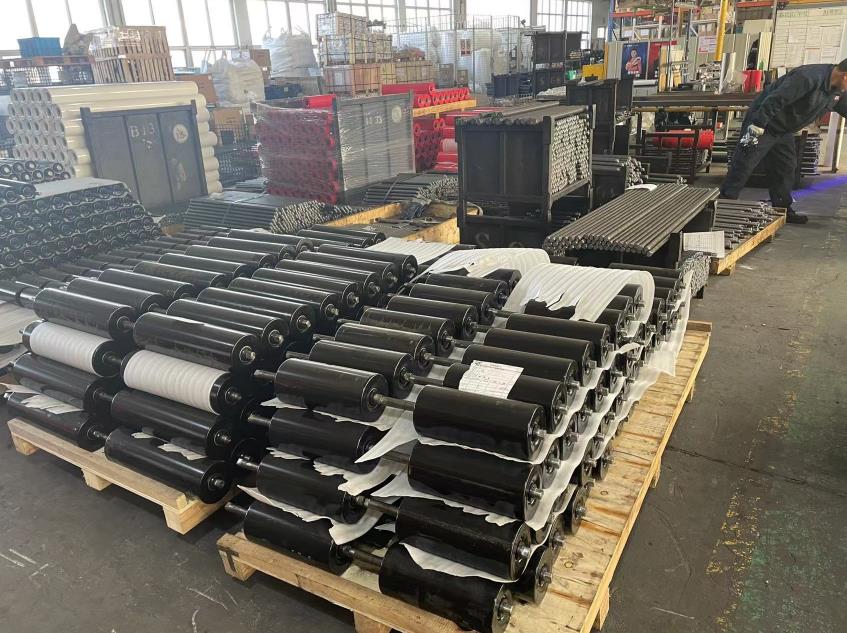 Product details:
In terms of the overall project required for the design of a conveyor system, conveyor rollers constitute a significant investment. In order to do this, Zoomry gives careful consideration to each and every manufacturing stage, from initial research to design, from production to exact laboratory tests using specifically created machinery to examine conveyor rollers performance.
Additionally, because roller bearings are protected by an effective sealing system and are made of highly selected materials like steel and thermoplastic, they are able to withstand environmental stresses like dust, filth, water, low, and high temperatures. All recognized national and international standards, including ISO, UNI, DIN, AFNOR, FEM, BS, JIS, SANS, and CEMA, are followed in the manufacturing of conveyor rollers.
Why you choose our conveyor roller?
Advanced sealing performance;
high-quality raw materials;
Strict quality control checks;
Automated assembly line;
meet customer needs.
Material:
Q235 idler, ceramic idler, high frequency welded pipe idler, polymer idler

Application:
Widely used in metallurgy, coal, hydropower, building materials, chemical industry, ports, docks and other departments. It can transport various block, granular, bulk materials and finished items with a cumulative capacity of 0.5-2.5t/m³.

There are the following eight indicators to measure the quality of rollers:
1. The radial runout of the roller (this indicator directly affects the stability of material conveying.)
2. Axial string momentum (directly affects the service life of the roller)
3. Flexibility (affects the service life of the roller and the service life of the tape, as well as the driving power of the whole machine)
4. Waterproof performance (affects the service life of the roller)
5. Dustproof performance (affects the service life of the roller)
6. Axial bearing capacity (affects the service life of the roller)
7. Impact resistance (affects the service life of the roller)
8. Rotation resistance (affects the service life of the tape)
Specifications table:
Bearing idler/buffer idler
Length mm Idler type

Bearing

160

200

250

315

380

465

530

600

670

750

800

900

950

1050

1120

89mm

6204

√

√

√

√

√

6205

√

√

√

√

√

108mm

6204

√

√

√

√

√

√

6205

√

√

√

√

√

√

6305

√

√

√

√

√

√

6306

√

√

√

√

√

√

133mm

6205

√

√

√

√

√

√

√

√

√

√

6305

√

√

√

√

√

√

√

√

√

√

6306

√

√

√

√

√

√

√

√

√

√

159mm

6305

√

√

√

√

√

√

√

√

√

√

6306

√

√

√

√

√

√

√

√

√

√

√

√

6307

√

√

√

√

√

√

√

√

√

√

√

6308

√

√

√

√

√

√

√

√

√

194mm

6307

√

√

√

√

√

√

√

√

√

6308

√

√

√

√

√

√

√

√

√

6309

√

√

√

√

√

√

√

√
Return idler/spiral idler
Length mm Idler type

Bearing

750

950

1150

1400

1600

1800

2000

2200

2500

2800

3000

3150

3350

89mm

6204

√

√

√

6205

√

√

√

108mm

6204

√

√

√

√

√

6205

√

√

√

√

√

6305

√

√

√

√

√

6306

√

√

√

√

√

133mm

6205

√

√

√

√

√

√

√

6305

√

√

√

√

√

√

√

√

√

6306

√

√

√

√

√

√

√

√

√

159mm

6305

√

√

√

√

√

√

√

√

√

6306

√

√

√

√

√

√

√

√

√

√

√

6307

√

√

√

√

√

√

√

√

√

√

√

6308

√

√

√

√

√

√

√

194mm

6307

√

√

√

√

√

√

√

√

√

6308

√

√

√

√

√

√

√

√

√

6309

√

√

√

√

√

√

√

√