The radial stacking conveyor is designed for high volume storage operations. All units come standard with diesel power unit, hydraulic main lift and hydraulic top fold. Depending on the best application for the customer's business, electric power and dual power supply are available as options. This heavy-duty radial stacking conveyor features a setback axis and a maximum conveyor angle of 20 degrees for the highest inventory per conveyor length in the industry. With its durable truss frame, large infeed hopper and a base capacity of 500 TPH (with the option to upgrade to 800 TPH). It is used for flexible mobile stacking in various occasions, and the stacking height can reach 20m. Because the radial stacking conveyor has the characteristics of being movable, rotatable, and retractable, the stacking capacity and efficiency are greatly increased.
Designed with cutting-edge engineering and innovative technology, the Zoomry Radial Stacking Conveyor sets a new standard in the industry. This advanced industrial equipment is specifically engineered to efficiently sort bulk biomass materials into neatly organized piles, ensuring enhanced speed, productivity, and overall operational efficiency.
Features:
Robust Steel Frame: The Zoomry Radial Stacking Conveyor boasts a sturdy steel frame that provides unparalleled durability and long-lasting performance. The frame is meticulously engineered to withstand heavy loads and rigorous operating conditions, ensuring reliable operation in even the most demanding environments.
Versatile Conveyor Belt: Our radial stacker conveyor features a premium-grade metal or composite conveyor belt, carefully selected to match the specific requirements of biomass material handling. This versatile belt effectively transports bulk materials with utmost precision, minimizing spillage and optimizing productivity.
Efficient Pile Formation: The primary objective of our radial stacker conveyor is to facilitate the creation of organized and well-formed piles of bulk biomass material. By leveraging our state-of-the-art design, the conveyor seamlessly carries the material to the end of the boom, where it systematically forms a neat pile on the ground. This ensures improved aesthetics, easier material access, and reduced dust formation.
Enhanced Maneuverability: Some of our radial stacking conveyor systems come equipped with wheels or a rotating boom, revolutionizing material handling from one pile to another. This exceptional feature allows for seamless movement, reducing manual effort and streamlining operations, thereby enhancing overall productivity and efficiency.
Pivot Stand Design: Our conveyors are equipped with a pivot stand located beneath the loading hopper. This unique design enables the hassle-free setup of additional conveyors or machines, ensuring a continuous flow of biomass material into the radial stacking conveyor. The loading hopper remains at the center of the arc throughout the radial movement of the conveyor, simplifying integration into existing systems.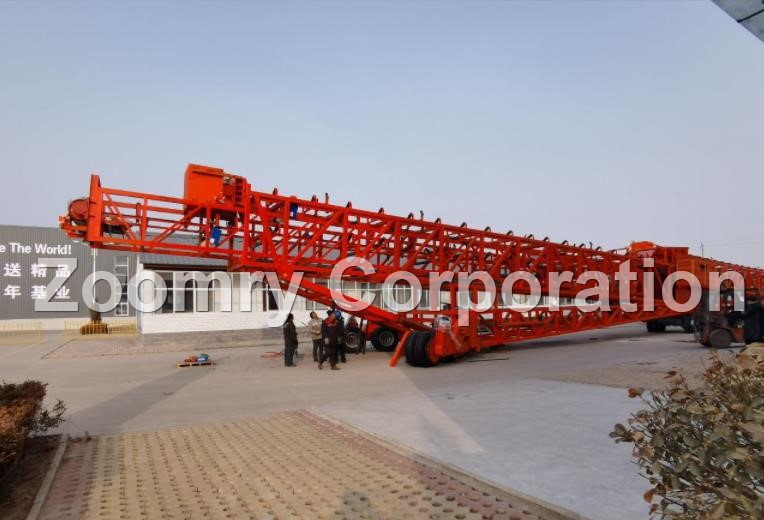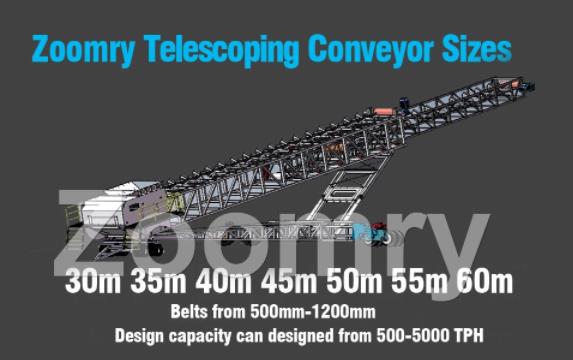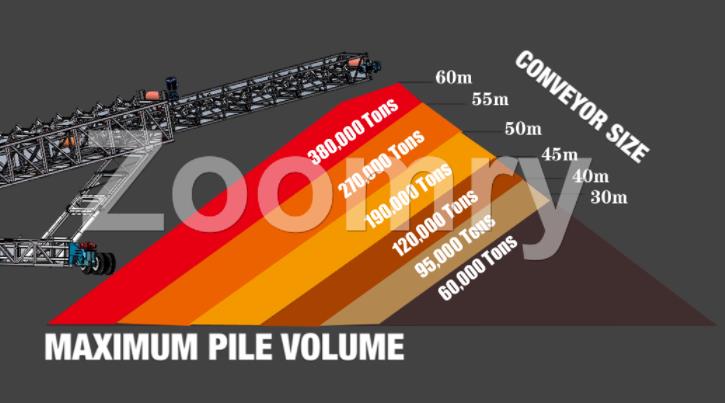 Application:
Biomass Processing: Our conveyors are perfectly suited for biomass processing facilities, allowing efficient sorting and organization of bulk biomass materials such as wood chips, sawdust, agricultural residues, and more.
Mining and Quarrying: In mining and quarrying operations, our radial stacking conveyor efficiently handles various bulk materials like ore, gravel, sand, and minerals, significantly improving stockpiling operations and optimizing material flow.
Construction and Infrastructure: The construction industry benefits from our radial stacker conveyor, as it enables efficient stockpiling of aggregates, crushed stone, gravel, and other construction materials, facilitating a smooth construction process.
Advantage:
It has high stacking efficiency and can realize rotary telescopic stacking;
Compared with the conventional loader whose stacking height is only 5m-8m, and the mobile telescopic stacker's stacking height can reach 20m, which greatly improves the utilization rate of the site;
It is easy to move, after completing the stacking in one area, it can be moved to other sites to continue working;
Compared with conventional large stackers and reclaimers and spreaders, this equipment is cost-effective;
Specification:

Model
Width/mm
Maximum
Capacity m3/h
Speed
m/s
Standard
length/m
Maximum
angle
Telescopic
length/m
ZR80SF
800
500
2.5
30/40/50
20°
10-20
ZR100SF
1000
850
2.5
30/40/50
20°
10-20
ZR120SF
1200
1500
3.15
30/40/50
20°
10-20
ZR140SF
1400
2100
3.15
30/40/50
20°
10-20
ZR160SF
1600
3500
4
30/40/50
20°
10-20
Comparisons:
When compared to traditional methods of bulk biomass material handling, the Zoomry Radial Stacking Conveyor offers substantial advantages. Unlike manual sorting or standard conveyor systems, our radial stacker conveyor:
Enhances Efficiency: Our conveyor significantly improves the efficiency of bulk biomass material handling by organizing the material into neat piles, reducing manual effort, and streamlining operations.
Minimizes Dust: With its strategic design, our radial stacker conveyor minimizes dust formation, creating a cleaner and safer working environment compared to traditional methods.
Optimizes Accessibility: The organized piles created by our conveyor system enable easy access to biomass material, enhancing operational efficiency and reducing downtime.
Offers Versatility: Our radial stacking conveyor is adaptable to various industries, including biomass processing, mining, quarrying, and construction, providing a versatile solution for diverse material handling needs.
Provides Durability: The robust steel frame and a high-quality conveyor belt of our system ensure long-lasting performance, surpassing the reliability of conventional methods.
Structural composition of stacker: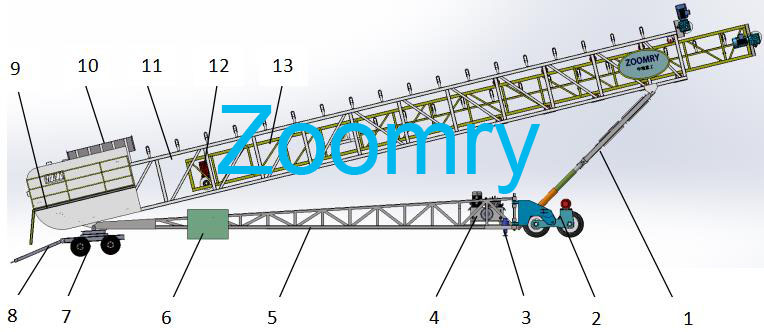 1-Hydraulic lifting system 2-Front wheel walking device 3-Hydraulic outriggers 4-Hydraulic station system 5-Base 6-Electrical control box 7-Tail wheel rotation device 8-Tow bar 9-Maintenance platform 10-Hopper 11 -Main belt conveyor 12-Wire rope traction device 13-Telescopic belt conveyor
More details: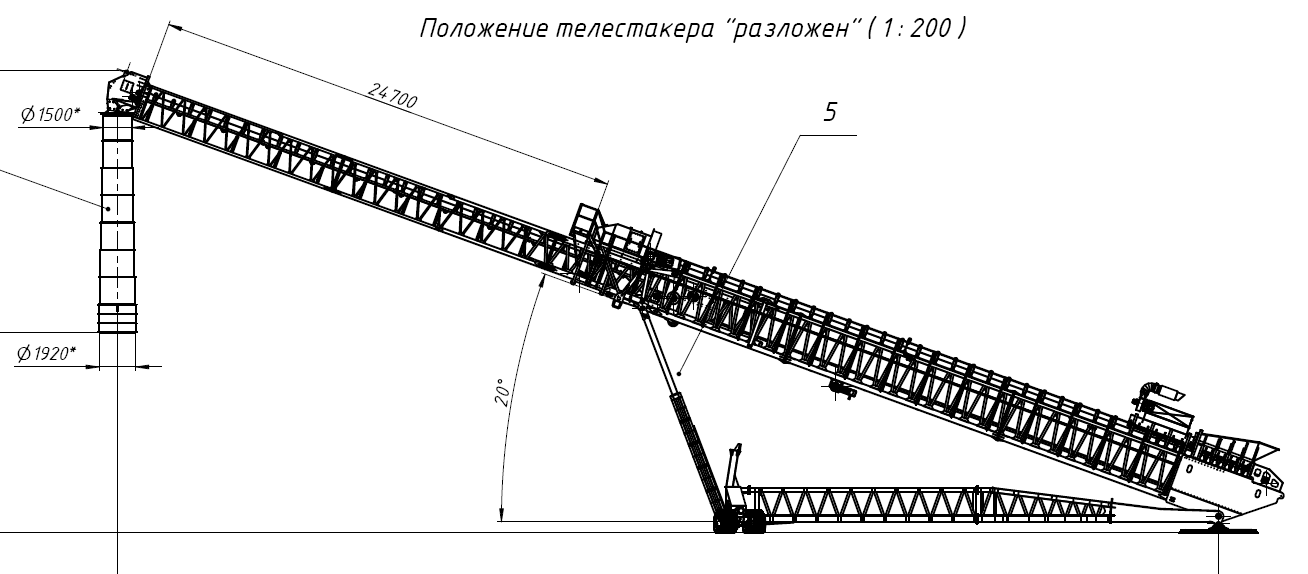 The included angle of the stacker can be controlled between 4 degrees and 20 degrees.