Telescopic conveyor systems are retractable conveyors. They can be extended to a certain distance or position, for example to the back of a truck, to allow easy loading and unloading of parcels. When loading is complete, the telescopic conveyors retract themselves and are ready for the next truck.
Telescopic conveyor systems can be fixed in place or can be designed to be mobile. Mobile telescopic conveyors are called transverse telescopic conveyor systems.
Transverse telescopic conveyors have wheels on the bottom which run along a track fixed to the floor, parallel to the door dock.
Telescopic conveyors can be designed with height adjustment options, allowing them to accommodate a variety of heights for easy loading and unloading. They also have a belt system that can move at adjustable speeds in both directions. So you can use the same telescopic conveyor for loading and unloading at variable speeds.
The main purpose of telescopic conveyors is to save time and man-hours when loading and unloading trucks or containers. The benefits vary from operation to operation, but in some cases a single shift job with a telescopic conveyor can accomplish the same loading or unloading tasks as a three-shift job with a conventional system. This is because these conveyors can be extended all the way into the truck, making it easier to load items with minimal walking back and forth.
Our telescopic conveyors are designed to achieve unrivalled handling rates and are suitable for unloading and loading container trucks, trailers and vans. They can also be connected to a suitable conveyor system for a complete solution.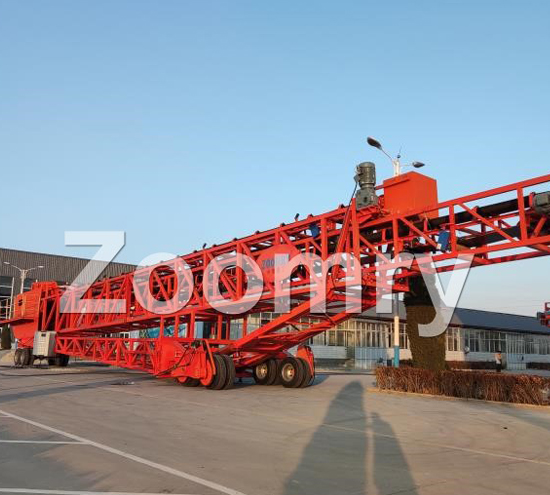 The benefits of
Telescopic conveyors
Faster and more efficient loading and unloading
With telescopic conveyors, loading and unloading processes are carried out in an organised, efficient and time-saving manner. These tasks can be completed at the quayside at a much faster pace, thus saving time. As a result, goods can be delivered in a shorter period of time.
Safe and reliable operation
The telescopic conveyors are designed to be robust and reliable. Workers can move the material safely during loading and unloading. It reduces the possibility of damage to the goods due to the product being handled several times.
Labour saving
The telescopic belt conveyor allows one operator to load/unload a container or truck quickly, safely and with less physical strain. Faster loading and unloading also helps to reduce the amount of labour on the quay to complete the task.
Improved ergonomic working conditions
Telescopic belt conveyors greatly improve ergonomic working conditions for operators and workers. Scalable variations minimise the need for workers to manually carry product and place drop-off points around them as required.
Versatile design (height adjustment)
Telescopic conveyors can be designed with a hydraulic tilt option. This allows you to use the conveyor with a variety of vehicles of varying heights during loading and unloading. By using the lateral telescopic conveyor system you can use the same conveyor for multiple gates or stations.
For further technical information talk with our specialist or visit our website https://www.zoomryhi.com. We can help you to identify the best solution for your application.