With the globalisation of trade, shipping equipment has become vital. Materials can be loaded and unloaded in a short time. How much do you know about loading equipment? Next, I will take you through the relevant contents.
What is loading equipment?
A ship loading machine is mainly used for loading and unloading bulk materials at terminals. The loading machine consists of a boom belt machine, a transition belt machine, a telescopic chute, a tail car, a walking mechanism, a gantry, a tower, a pitching device, a slewing device and other components.
Large-scale port bulk loading and unloading equipment plays an important role in the high-speed, stable, efficient and rolling development of energy, power, metallurgy, port and other industries, especially some bulk distribution centres.
Ship loaders are usually used for continuous loading operations. Therefore, there must be supporting equipment to provide a continuous flow of material to enable the shiploader to load continuously.
What are the classifications of shipping equipment?
Ship loading equipment can be divided into radial expansion shiploaders, car unloaders, direct feed shiploaders and rail telescopic shiploaders.
Radial expansion shiploaders
The radial expansion ship loader moves freely and is highly flexible. Its use reduces the operator's workforce. The operator can convey multiple bins in one inlet at one location, closed throughout, reducing bin change time and increasing productivity.
The use of a radial telescopic loader has the following advantages.
l Closed conveying of material, reducing dust pollution to the environment
l Loading rates of up to 3000 tph
l Flexibility with a spread length of up to 190 feet
l Base with drive wheels for flexibility to move to other locations when not in use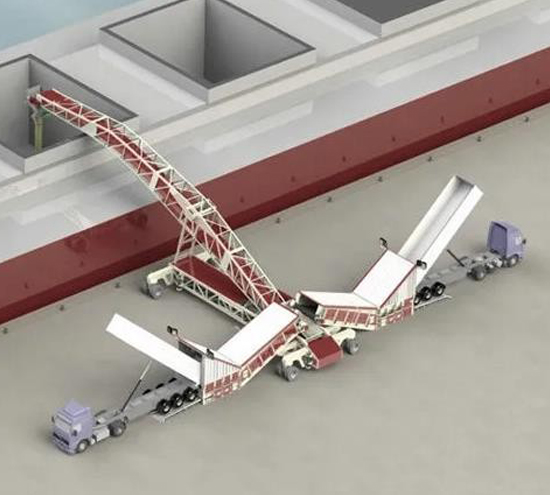 Truck unloaders
The truck loads the transported material onto the material conveyor, which transports the material to the carriage. The mobile truck unloader allows the operator to load the vessel directly from the tipper truck to avoid reprocessing the material at the quay. Direct use of the truck unloader allows the operator to reduce loading time to maximise productivity and minimise labour and maintenance costs.
Using a truck unloader offers the following advantages.
l Low investment and low site requirements
l Suitable for loading and unloading of trucks for all applications
l Radial boom length option provides maximum flexibility when levelling the cabin
l Loading rates up to 1500 tph
Direct feed shiploaders
Mobile direct feed ship loaders allow the operator to load directly from the wheel loader to the ship at the port or inland waterway terminal, avoiding duplication of material being handled at the terminal. Only one unit is used for loading and unloading, which helps to reduce loading times, maximise productivity and reduce labour and costs.
The use of direct feed ship loaders offers the following advantages.
loading rates of up to 1500 tph
l Low input and low site requirements
l High flexibility, low running costs and easy maintenance
l Up to 75% reduction in fuel costs
Rail-mounted telescopic shiploaders
The rail-mounted telescopic shiploader has a telescopic function with a track as the complete movement route. Rail-moving ship loaders can be used for loading and unloading of all types of material vessels.
The use of rail telescopic shiploaders has the following advantages.
Strong loading capacity, loading capacity up to 3000t/h
l Highly adaptable, the shiploader is equipped with a hydraulic lifting and telescopic device, the loading point can be freely adjusted
l Low cost, easy to operate, radio remote control operation, single person can complete the operation
l The shiploader is sealed for transport, reducing environmental pollution
l Small footprint
High flexibility of ship loading equipment. It is possible to unload trucks directly onto ships at ports or terminals, thus maximising productivity and reducing labour. The right type of loading equipment is selected according to the loading and unloading requirements.
Contact us for your bulk handling equipment needs.