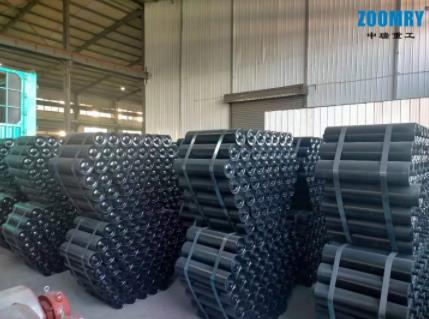 How to prolong the service life of belt conveyor rollers?
The non-contact seal of the roller is an axial labyrinth seal, which is divided into an inner seal and an outer seal, and a small tortuous gap is formed between the inner and outer seals to realize the seal. Idler grooved roller ceramic surface: form an oxide film, the surface is smooth, does not adhere to the material, and the contact friction coefficient with the Conveyor Belt is small, which reduces the driving force of the hoist. The axial labyrinth seal has good dustproof effect and small resistance, and the seal can be put on along the axis, which is very convenient for assembly and disassembly. Therefore, the organic combination of the two can make the roller better realize the functions of waterproof and dustproof.
The role of the roller seal is to prevent external dust, moisture, etc. from infiltrating the bearing. According to whether the seal is in contact with its active parts, it may be divided into a contact seal and a non-contact seal. In view of the defects of the original roller seal, a new type of sealing ring structure was redesigned.
This new type of sealing structure utilizes a combination of a contact seal and a non-contact seal. The contact seal is made of oil-resistant rubber, which has good comprehensive mechanical properties, high resilience and wear resistance. It uses the interference between the rubber seal and the roller shaft to combine it thoughtfully, thus effectively solving the problem of waterproofing of the roller, and also has the effect of preventing dust from entering.