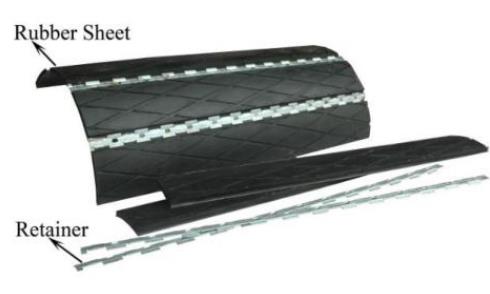 Design features:
Installation labor savings of up to 70%.
• A 30% increase in coverage leading to more traction
• 3/16" backing plate made of solid steel.
• In-house vulcanization using a cutting-edge computer-controlled autoclave.
• 1/2" SBR compound with a durometer of 60 to 65, excellent for many different applications.
• The pulley's ability to be re-lagged on the spot without being taken out of the conveyor.
• The typical ROLLED CROWN FACE.
• Since diamond grooving is the norm, installation is quick and simple.
• Fewer parts result in increased rubber covering and fewer gaps.
• No wastage or excess of materials. no unattractive seams
Application:
The replaceable slide lagging allows on-site installation and repair possible without removing belts and pulleys from the machinery. It also greatly increases the lifespan of pulleys. The pulley face has been securely welded, and the sliding plates are placed inside and out of the specific metal reainers.