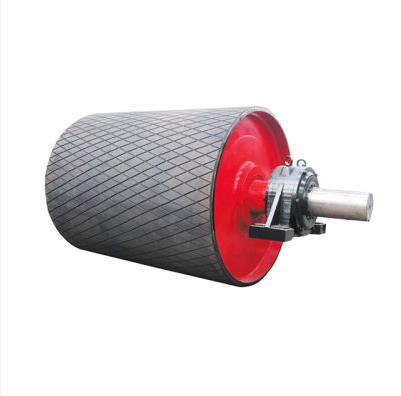 Design features:
Less welding. An integrated hub removes welded connections by being machined from a single piece of steel.
Decreased weight. Modern engineering has produced this, positioning the Weight in the proper place.
Cost reductions. When it's not necessary, are you upgrading to expensive, extra-heavy construction?
Inventory is down. It is a single model that can function in several applications.
Specifications:
| | | | | | | | | | | |
| --- | --- | --- | --- | --- | --- | --- | --- | --- | --- | --- |
| Diameter of belt roller | 500mm | 650mm | 800mm | 1000mm | 1200mm | 1400mm | 1600mm | 1800mm | 2000mm | 2200mm |
| 400mm | √ | √ | √ | √ | √ | √ | | | | |
| 500mm | √ | √ | √ | √ | √ | √ | √ | | | |
| 630mm | | √ | √ | √ | √ | √ | √ | | | |
| 800mm | | | √ | √ | √ | √ | √ | √ | | |
| 1000mm | | | √ | √ | √ | √ | √ | √ | √ | |
| 1250mm | | | | √ | √ | √ | √ | √ | √ | |
| 1400mm | | | | √ | √ | √ | √ | √ | √ | |
| 1600mm | | | | | √ | √ | √ | √ | √ | |
| 1800mm | | | | | | | √ | √ | √ | √ |
| 2000mm | | | | | | | √ | √ | √ | √ |