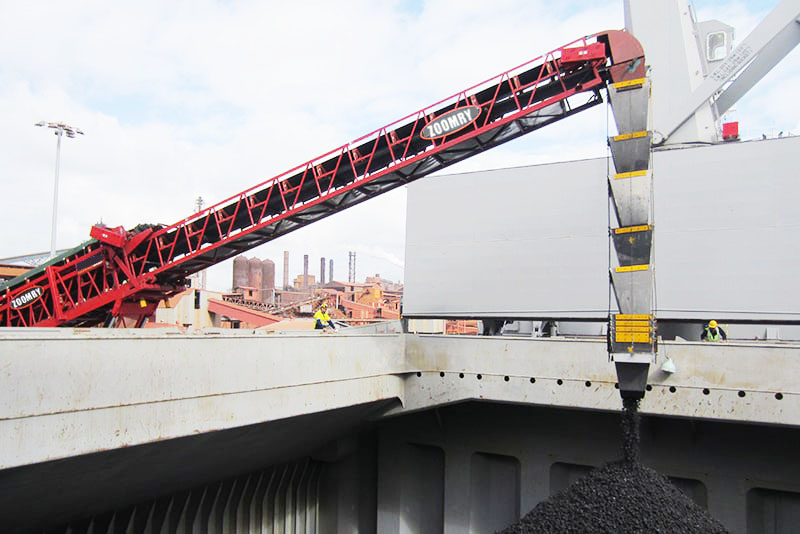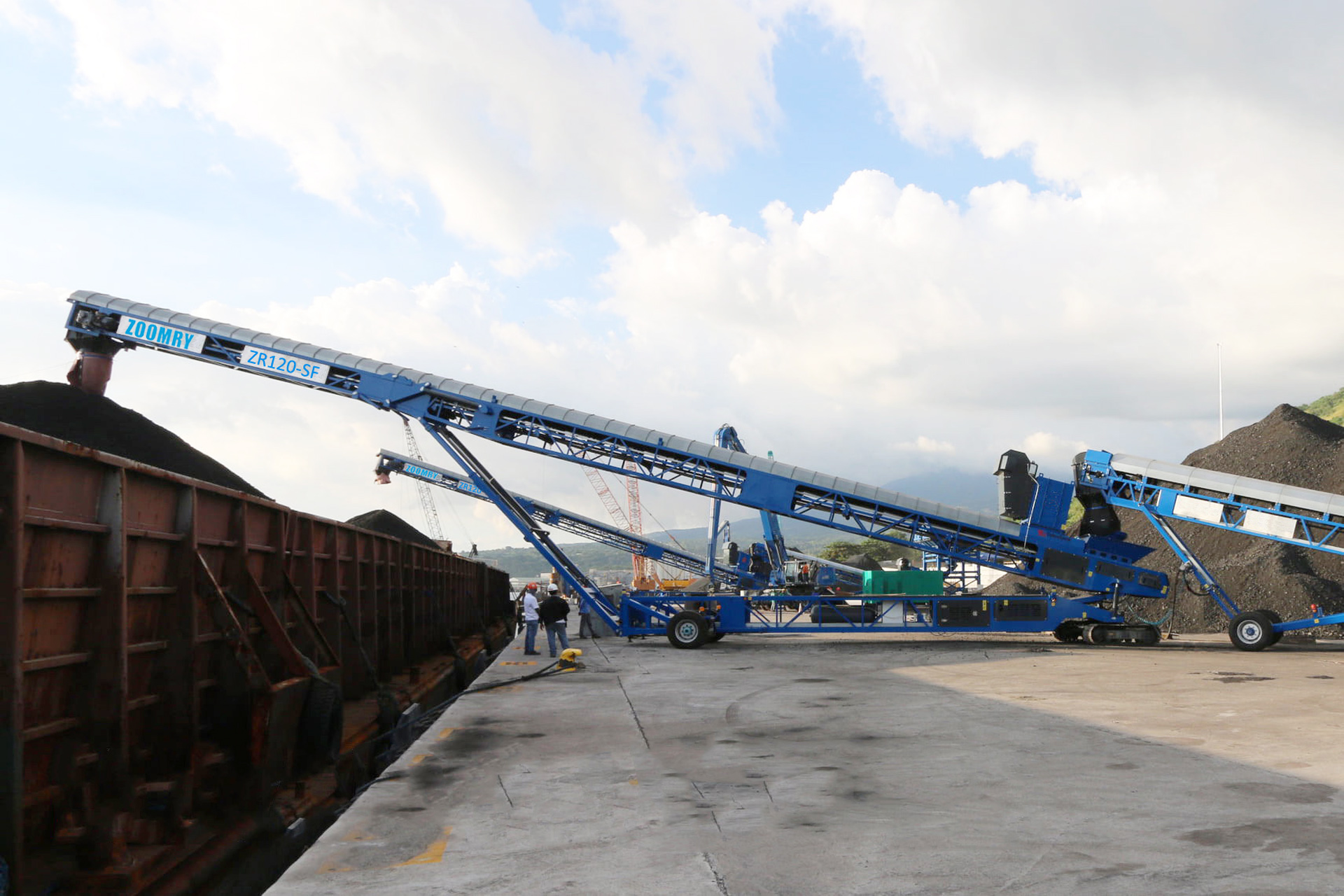 How to choose a proper ship loader for your site?
Step one: To check and confirm your vessel type, please check the following diagram
Step two: To choose a proper ship loader model for your vessel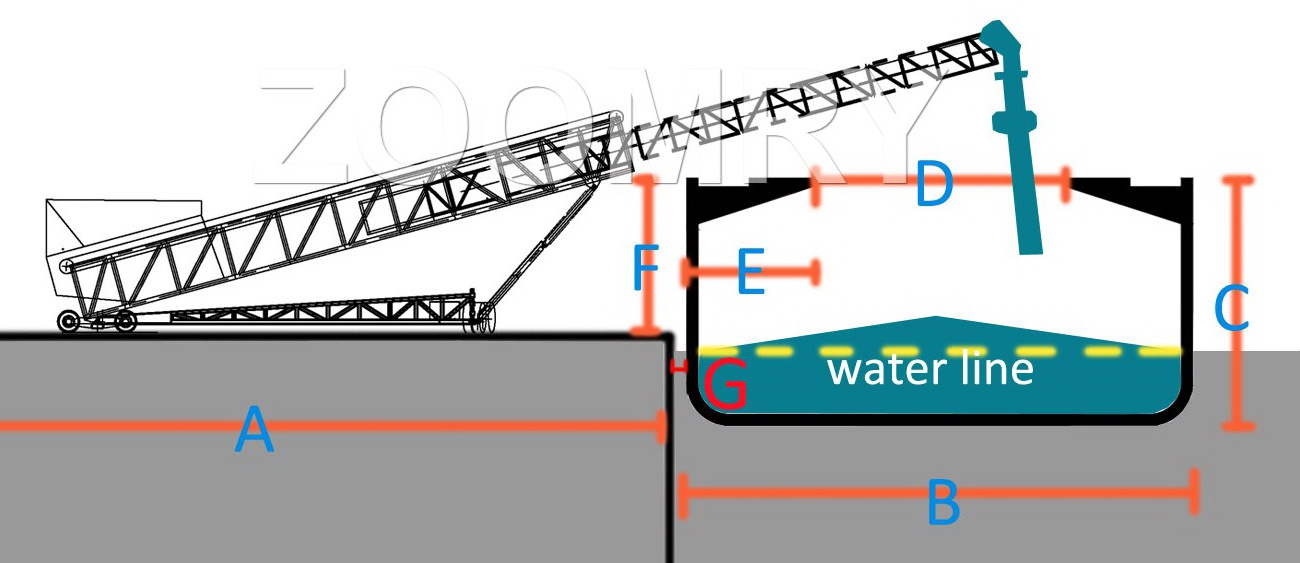 Available Dock Width A
Beam Width B
Vessel Height C
Hatch Width D
Deck Width E
Height Above Dock F
Fender Width G
Vessel type you can choose:
1. Barge 2. Handysize 3. Handymax 4. Panamax 5. Capesize 6. Others
What are the uses for mobile shiploaders?
The primary purpose of the mobile ship loaders is to load bulk cargo onto ships or barges. For cargo runners with chute, it offers a highly effective loading method. Our company offers full ship loaders (also known as ship loading systems), barge loaders (also known as barge loading systems), and vessel loaders (also known as vessel loading systems). Our equipment can be used to load a ship from vehicles or stockpiles. When handling bulk materials including bulk coal, fertilizer, aggregate, sand, wood chips, wood pellets, crushed rocks, grains, iron ore, copper ore, bauxite, etc., our mobile barge loader conveyor system equipment is frequently utilized.
What kinds of conveyors are there for ship loading?
1. Rail-mounted Shiploader
2. All Wheel Travel Shiploaders
3. Tracked Radial Telescopic Shiploaders
4. Direct Feed Barge Shiploaders
5. Transshipping Barge loaders
6. Conveyor with chute.
Why Would You Want to Purchase a Mobile Shiploader?
1. Lower Investment: Compared to highly engineered, stationary systems, there is a significant reduction in capital investment.
2. Faster lead times in comparison to fixed systems requiring a lot of engineering.
3. Quick Installation: As opposed to taking weeks or months, installation timelines are measured in hours and days.
4. High Mobility: Shiploaders with high mobility can enter and exit your business quickly.
5. Strong Function: Stockpiling, loading, and unloading operations are all carried out by multifunctional machinery.
6. Quality Control: Our mobile ship loading equipment ensures that the quality of the bulk material is maintained throughout the conveyor handling operation.
To check and confirm your vessel type, please check the following diagram

| | | | | | | |
| --- | --- | --- | --- | --- | --- | --- |
| | DWT (ton) | Clearance Height(m) | ZRSL -33 | ZRSL-46 | ZRSL-52 | ZRSL-58 |
| BARGE | 100-5,000 | 0-3 | | | | |
| HANDYSIZE | 10,000-35,000 | 4-8 | | | | |
| HANDYMAX | 35,000-50,000 | 6-10 | | | | |
| PANAMAX | 60,000-80,000 | 10-14 | | | | |
| CAPASIZE | 80,000-12,000 | 16 | | | | |
ZOOMRY SHIP-LOADER FEATURES INTRODUCTION
1) EXCELLENT CONVEYOR PARTS
ZOOMRY is designing and producing kinds of CEMA standard idlers, pulley and discharge chute by ourselves, this guarantee ZOOMRY conveyors' quality steady and good. And the ship loaders are adopting FLENDER/SEW motors with best quality China brand bearings. DIN standard Conveyor Belt to be environment friendship.
2) GALVANIZED RAIN COVER / SLIDING CANVAS COVER
Rain Covers are available in galvanized steel, aluminum, stainless steel, fiberglass or painted steel. Screens are optional to shield the return belt to keep workers safe from moving components and block access for animals. Sliding canvas cover retracts and extends with the conveyor to protect material and prevent dust.
3) TELESCOPING DISCHARGE CHUTE
A telescopic conveyor allows 30% extension and retraction for fully trimmed hatches and adjustability around unique vessel infrastructure.
4) ONBOARD Diesel Power-gen group
ZOOMRY optimized diesel power-gen set allows flexibility to quickly move anywhere throughout the dock!
5) ZOOMRY UNDER CARRIAGE
Hydraulically-powered undercarriage designed to support system move flexible and be stability. We have basic type, wheeled dolly type, tracked type and full wheel drive type to suit different working site or requirement.
6) HEAVY-DUTY LOAD IDLERS
Large idlers support conveyor while center pivot design guarantee weight equally shared on all rollers. Our designed and produced ZOOMRY brand super idlers can suit belt speed up to 6.9 m/s. Roller life can last to 50,000-60,000 hours.
To choose a proper ship loader model for your vessel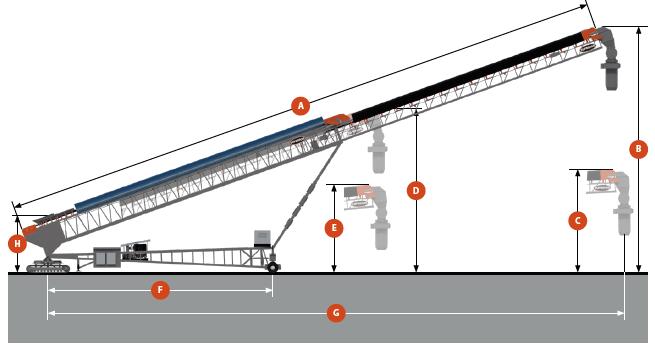 | | | | | |
| --- | --- | --- | --- | --- |
| OPERATING DIMENSIONS | | ZRSL-46(m) | ZRSL-52(m) | ZRSL-58(m) |
| Conveyor Length | A | 46 | 52 | 58 |
| Highest Extended Discharge Height | B | 16.9 | 19.1 | 21.1 |
| Lowest Extended Discharge Height | C | 4.6 | 4.9 | 5.9 |
| Highest Retracted Discharge Height | D | 8.9 | 11.8 | 12.8 |
| Lowest Retracted Discharge Height | E | 4.0 | 4.6 | 4.7 |
| Anchor Pivot to Center of Axle | F | 20.2 | 23.7 | 24.9 |
| Anchor Pivot to Discharge | G | 42.2 | 49 | 54.6 |
| Feed Height | H | 3.5 | 3.6 | 3.8 |
| Operating Width | | 9.8 | 9.8 | 10 |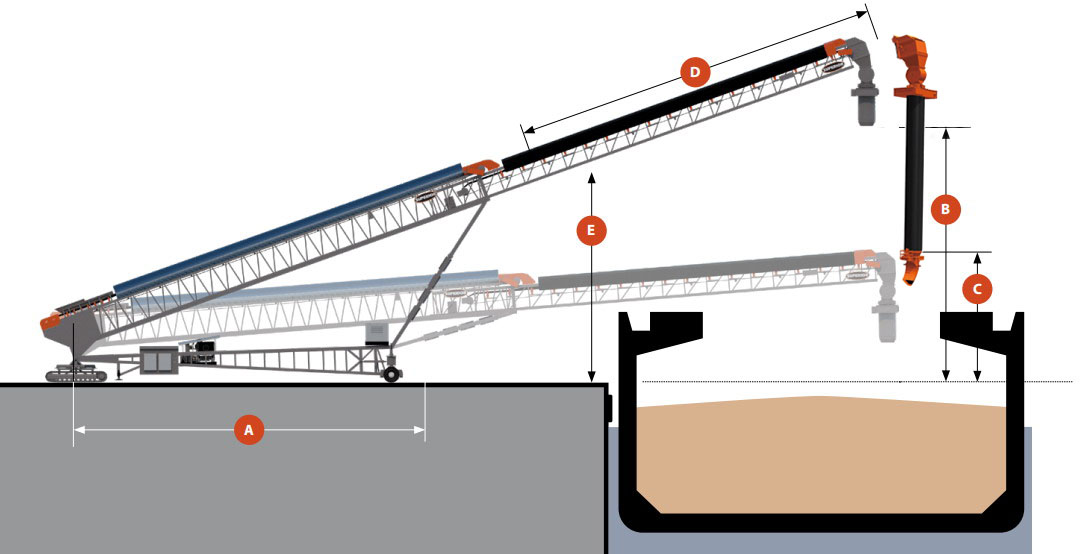 | | | | | |
| --- | --- | --- | --- | --- |
| Operating Dimensions | | ZRSL-46(m) | ZRSL-52(m) | ZRSL-58(m) |
| Undercarriage Length | A | 21 | 24.8 | 26.1 |
| Clearance (Raised) | B | 14.5 | 16.7 | 18.6 |
| Clearance (Lowered) | C | 4.6 | 4.9 | 5.9 |
| Stinger Conveyor Extension Distance | D | 18 | 19 | 24 |
| Max Height of Main Conveyor | E | 7.5 | 9.5 | 10.1 |