The portable mobile stacker is mainly used for stockpiling in the stockyard. Its main function is to increase the stockpiling area, and to stack stockpiles far and near. The stacking distance is 14-15 meters; the maximum height can reach 14 meters.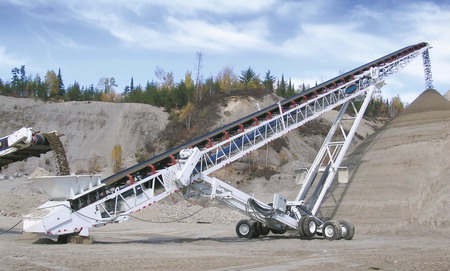 The far and near stacking of the mobile stacker is completed through the telescopic traction device behind the telescopic belt conveyor. Start the operation button of the wire rope traction device to control the stretching distance of the telescopic belt conveyor; the height of the stacker is completed through the hydraulic lifting cylinder, and the lifting operation button is activated to control the lifting height of the stacker; Wheel walking device to complete, start the stacker walking operation button to rotate the stacking position, stop after reaching the designated position, or set the rotation angle, and realize automatic left and right automatic rotation by modifying the walking time on the control panel.

Stacker Conveyors are purpose built for each application and offer unique operational features to allow luffing, slewing and telescoping action as required, to establish the maximum stockpile capacity at the required tonnes per hour.
Mobile stacker Specification: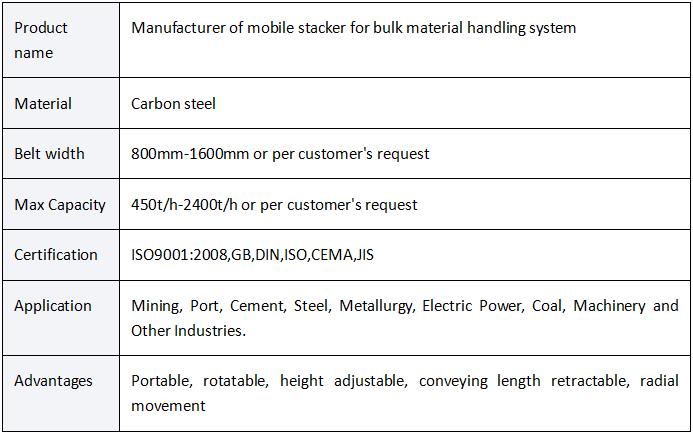 Application Industries:
Cement and mining
Industrial Plants
Iron and steel industry
Aggregates and quarries
Recycling and environment
Energy industry
Public constructions
Chemical industry
Farming and ranching
The application advantages as follows:
1. Rotating the stacker fan-shaped and increase the stacker capacity;
2. The length is able to further increased the stacking capacity;
3. It can be moved as a whole, easy for users to change the place of use;

4. through the expansion and contraction of the hydraulic cylinder, the stacker angle adjustable, can reduce the dust and easy to move and maintenance at the same time ;
5. Non-standard design of length and transportation capacity according to users' needs.
More details: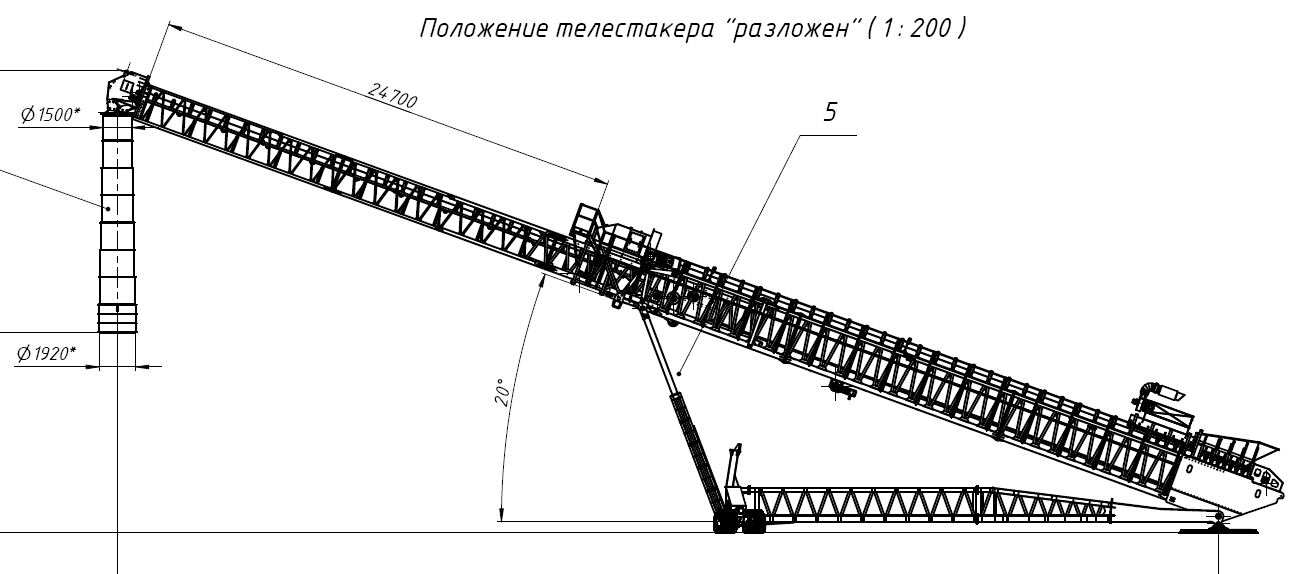 The included angle of the stacker can be controlled between 4 degrees and 20 degrees.