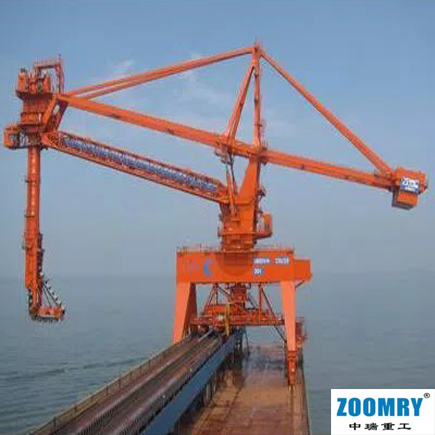 Specification:
| | |
| --- | --- |
| Capacity | 300-500m3/h |
| motor Power | 115-130kw |
| Cantilever Length | <20m |
| Cantilever Angle | ±14 |
| Walking Speed | 2m/min-20m/min |
Why you choose our Rotary Chain Bucket Unloader?
It causes little environmental pollution because the pathways for substances to communicate are sealed; yet dust cannot easily escape from the reclaimed head. There aren't any frequent starting-braking operations in the meanwhile, therefore the noise is quite low. Large amounts of material, including iron, limestone, coal, or stone, may be removed from the lawn by the machine in nearly any position. The maximum cubic meter rate of material unloading can be as high as 500 m3/h. The Rotary Chain Bucket Unloader transmits materials using a conveyor mechanism.
This system is environmentally favorable because the dust collection unit is mounted above the belt conveyor. As a result, enterprises are abandoning eco-friendly excavator and dust removal equipment too rapidly.